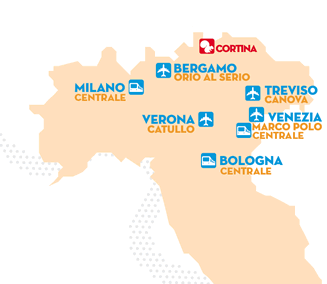 Cortina d'Ampezzo is in the north of the Veneto Region, only 44 km from the Austrian border.
It is 162 km from Venice, 432 km from Milan, 692 km from Rome, and 156 km from Innsbruck.
The main airports are: Venezia Marco Polo (Venice VCE), Treviso and Innsbruck .
The main railway station is Venezia-Mestre (close to Venice)
The travel takes about 2 hours from/to Venice, 1,5 hours from/to Treviso, 2,5 hours from/to Innsbruck.
Enjoy a safe, relaxing and comfortable journey with our private transfer service. Your personal driver will welcome at your flight or train arrival and accompany you to Cortina d'Ampezzo or to one of the resorts in Cadore area, wich is on the road to Cortina: Borca di Cadore, San Vito di Cadore.